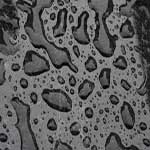 Granite is a naturally porous surface which may allow liquids other than water to penetrate the surface, causing the potential for stains. The purpose of sealer is to keep liquids just like coffee and wine from penetrating the granite.
Here is a step-by-step guide to seal your granite counter-top:
Determine whether your counter top need to be sealed by simply placing a wet towel on the surface and wait about 5 mins. If the surface under wet towel is darker than other area, you granite need to be sealed.
Clean the surface totally and wait until it is completely dry.
Evenly spray the sealer to the surface and wait about 20 mins. Let the sealer absorb into stone
When the sealer is almost dry, apply a little more sealer and clean up the surface with dry paper towel.
Second coating is suggested. Wait at lease couple hours after first coating.
Tip: You can get sealer from Home Depot or Lowe's. Deference brand sealer may work a little differently. Please read the instruction before applying sealer.